Through the generosity
of anonymous Redding Zen Priory supporters,
all donations made to the Priory
between October 1 and November 1, 2021
will be matched, dollar-for-dollar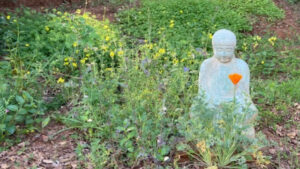 When Indra took a blade of grass
And pointed towards the ground
From seeming nothing arose a place
Where training now resounds.
This temple shapes a sacred space
Magnificent in its reach,
A deeper refuge of mindfulness,
A place where all things teach.
The Buddha holds each heart in faith; 
The Dharma pristinely shines;
The Sangha lives in harmony;
The Three Gems guide our minds…
From The Founder's Vow, an invocation sung at Shasta Abbey
each year on the occasion of the celebration of
Founder's Day on November 1, Founder's Day.  
From seeming nothing arose a place Where training now resounds…
Dana
 or 
generosity of spirit
 is a hallmark of Buddhist practice.  From the time of the Buddha, a relationship of 
dana
 – mutual aid and trust – has endured between the members of the Fourfold 
Sangha – monks and laypeople
. Because of your generosity, over the past three years, Redding Zen has become established as a respected member of the Redding community.  During the recent Covid pandemic and the challenging weather conditions here in Northern California, Redding Zen has risen to offer a wide range of opportunities for Zen practice and training without geographical boundaries.
To continue to offer meditation instruction, Dharma study, Buddhist ceremonies, retreats and spiritual counseling, we ask for your help as
we seek to:
·    expand our offerings further beyond the physical boundaries of the priory
via ZOOM, Youtube, and Facebook;
·      strengthen our connections as a sangha;
·      continue to grow in an organic way that
supports our members and those who wish to join us.
Through the kindness of Priory donors, we have $10,000 available to match your donations during the period from Friday, October 1, 2021, to Founders Day, November 1, 2021. Your contribution, large or small, is more important than ever.  You may send your check to – or drop it off at – Redding Zen Priory, 1190 South Street, Redding CA 96001.  Your donation may be tax deductible.
Your on-going generosity is and has been inspiring.  The Priory deeply values your in-kind offerings of material goods, financial support, time and expertise, and – most of all – your training.
With gratitude and appreciation, Rev. Helen
PS.  This might be the time to consider arranging a direct deposit monthly donation through your bank.  If you need help in this process, please contact Gary Solberg at gjsolberg@gmail.com or me at reddingzen@gmail.com to obtain the information needed to do so.
*****
There is no need to be concerned about how small the gift may be so long as it brings True results for, even if it is only a single phrase or a verse of the teaching, it may be a seed to bring forth
good fruit both now and in the future.
Great Master Dogen The Shushogi


DANA OR GENEROSITY OF SPIRIT
From the time of the Buddha, a relationship of dana (generosity of spirit), mutual aid and trust has endured between the laity and the monastic members of the Buddhist Sangha. This reciprocal respect and kindness and depth of commitment to help each other is what enables Buddhism to survive and grow. We are deeply grateful for your kindness and generosity of all kinds in helping us to maintain this place of training.
FINANCIAL DONATIONS
Redding Zen Buddhist Priory is supported entirely by dana. If you would like to help support us by
-sending a donation by check please feel free to mail – made out to Redding Zen – to it to Redding Zen Buddhist Priory, 1190 South Street, Redding CA. 96001,
-set up automatic payments from your bank directly into the Redding Zen Buddhist Priory bank account.  If you are interested in setting up a regular offering, please contact Rev. Helen (reddingzen@gmail.com) to make arrangements.
-contribute via PayPal
IN-KIND DONATIONS
You may also make in-kind donations of food or materials, or of practical help including offering general work or professional skills.  Offerings of time, skill, and labor are offerings of dana, too. There are many opportunities to contribute your expertise in completing special projects and with ongoing needs.  Offerings of office, cleaning, and garden supplies are gratefully received.
FOOD OFFERINGS
Since the time of the Buddha, the lay Sangha has offered food to monks.  Expanding your kitchen to include Redding Zen Buddhist Priory can take many forms. You can offer some of the many staples that are part of a nutritional meal. You can help either cooking a meal, or some part of it. This is often done as a memorial for a loved one. When you do your weekly shopping think kindly of the Priory, and possibly get a second of something to bring by. Whether a piece of fruit, a sack of potatoes or an entire meal food offerings are deeply appreciated as wonderful expressions of dana.