March 25, 2020
The life of the Priory continues to unfold.  In the spirit of quarantine and self-isolation, I did a House Blessing for Jeri Shattuck's new home – The Abode of the Dawn of the Dharma – BY TELEPHONE Wednesday afternoon.  Having just got the keys for her new house, Jeri set up a lovely altar in the empty living room.  Following my opening verse and dedication here at the Priory altar, we recited the Scripture of Great Wisdom together.  We then chanted the Om Kembaya invocation of protections as we "went through" the house.  Jeri walked through each room and out into a spacious back yard. On my computer, I went through the Zillow listing photos of the places she was walking.  How nice to know there are alternative ways of bringing ceremony to life!      Pictures tomorrow, I hope!
March 23, 2020

Thanks to all who helped make our coming together via ZOOM on Sunday, March 22, 2020,  a very positive and enjoyable -experience.  It was so good to see each other and to have the opportunity to share in the rich discussion we usually have when we're together at the Priory.  Fifteen of us attended including participants from Santa Cruz, San Andreas, and Thunder Bay.  Our ZOOM platform allows us to 100 participants so there's room for more.
We learned a lot that will make our next meeting all the smoother.
Yes, we hope to certainly "meet" again next Sunday.
I'm also thinking we could come together on Thursday evenings
for a half hour to stay in touch.
I hope to have more about this in the coming days. Links to the ZOOM meeting will be sent out later in the week.
I'm happy to talk with you individually if you have questions
about how to use this very helpful tool.
With gratitude and appreciation, Rev. Helen
March 19, 2020
Please see our Sangha Resources Page
for Dharma Resources you may find helpful
during this time of uncertainty, confusion, and fear.    
March 17, 2020

Redding Zen Buddhist Priory is closed through March 31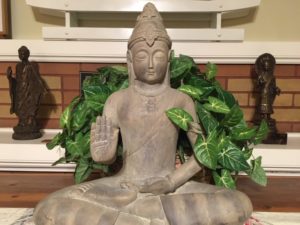 To protect the health of our Sangha and to help prevent the spread of the coronavirus, Redding Zen Buddhist Priory is closed through March 31.
The Priory will be closed Tuesday, March 17 through Tuesday, March 31.
Over these next two weeks, we will evaluate whether to reopen at the beginning of April, or to extend this closure.  Tuesday's usual 5:30pm meditation period here is cancelled.
I invite you to take this time to develop and deepen your own individual practice by sitting with me in spirit, at your home sitting place, as I sit here at the Priory every day at our usual 6:30am and 5:30pm meditation periods each day.  I am also adding an additional sitting period from 12:30 to 1:00pm.  This is our opportunity to offer merit for all those affected by the coronavirus, in all the ways they are affected – medically, economically, psychologically, spiritually.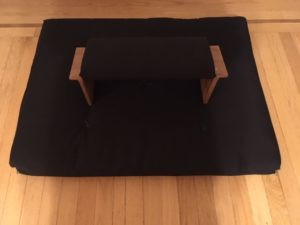 Over the next few days I will look to explore some of the ways to keep in touch with each other (as well as to study and meditate together) we discussed last Sunday.  I'll keep you informed as these develop.  Indeed, I welcome your ideas, suggestions, and technical ability.
Please call or email me with any questions.  And we can schedule our sanzen (spiritual counseling) conversations over the phone or via Skype during this challenging time.
This decision may surprise some of you, since at our discussion last Sunday morning we decided to keep things simple, but keep things open. I wanted to remain open as a refuge and safe meditation place for our community.  However, overnight, the various government guidelines have become more restrictive. I've also realized how difficult it would be to maintain the six-foot distance guideline as we walked about, got our tea, visited, and such. This seems serious enough to err on the side of caution.
Please take good care of yourselves.  We have the opportunity to offer merit and compassion to those in our family, friends and those we encounter in our days.  May we continue to offer responsible fearlessness to our world.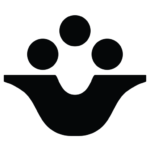 October 27, 2019

Twenty four of the Priory Sangha met on the morning of Saturday, October 26, at the first Priory Annual Meeting. We started with meditation and a Ceremony of Going On (chanting the 
Gate Processional
!). We then reviewed all that has happened to, and through, the Redding Zen Priory since February 1, 2018.
Gary Solberg, Priory Treasurer, gave an overview of the Priory's financial status and announced the generous offer a a matching donation: all donations made to the Priory will be matched, dollar for dollar, by an anonymous donor. We are most grateful for this extraordinary expression of dana.
The following discussion about how to strengthen the life of the Priory and it's sustainability was lively, insightful, and helpful. We finished our very full morning with a delicious pot-luck lunch enjoyed by all.
Yes, "…Harmony is the Sangha Treasure…"
October 3, 2019
The 2019 OBC Monastic Gathering started with this dedication offered by Rev. Master Haryo at the first day's Morning Service:
I offer this incense in memory of our founder, the Great Priest Houn Jiyu. As we commence our coming together, may we do so in appreciation of  your (original was 'her') past efforts, which have set in motion what is now up to us to practice , perfect and pass on, each in our own way. May our meeting together be a living expression of the Buddha treasure, the Dharma treasure, and, especially,  the Sangha treasure.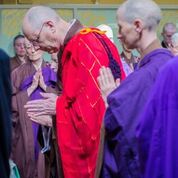 Midway during our time together we held a Memorial Service for Reverend Master Jiyu.  Rev. Master Haryo offered the following words of dedication:
I offer this incense in memory of our founder, the Great Priest Houn Jiyu.  I pray your help, and that of the Buddhas and Ancestors as we try to navigate these modern changing times presenting humanity with so many challenges, in so many new ways. May we be a source of stillness for those in turmoil, and may that stillness help them live and act from a heart at peace.  May we have the insight into what brings lasting results, even if not necessarily quick results, and may we never lose sight of answering the longings of the heart as we also do our best to respond to the longings and questions of the head.
September 2, 2019
Tom and Maria accompanied our Short Morning Service last Thursday morning and, before they set out for Colorado and new jobs, offered this exquisite hand-made piece for the Priory. The verse is Rev. Master Jiyu's chosen death poem engraved on her stupa at Shasta Abbey. Tom did the wood-burning, and Matt did the varnishing, on a lovely piece of Northern California pine. What a beautiful remembrance!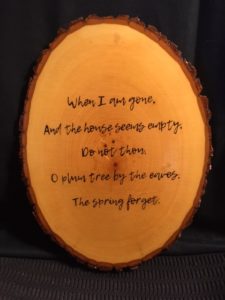 August 24, 2019
Saturday morning, August 24, the Priory Sangha, along with Tom's parents John and Jackie, and the couple's friends Matt and Christi, celebrated the deeply meaningful Buddhist wedding ceremony for Tom Gibson and Maria Domenech Florit! All of us appreciated the dedication and joy Tom and Maria brought to each other. Following the ceremony we enjoyed toasts with sparkling cider.
Wedding ceremonies are one of the offerings the Priory makes to our Sangha and the community.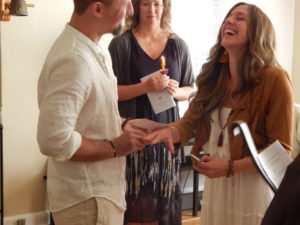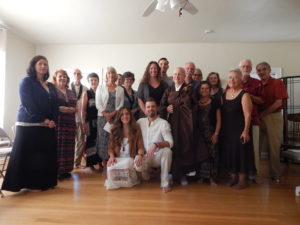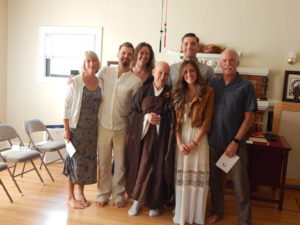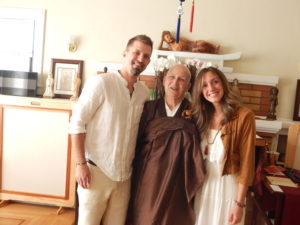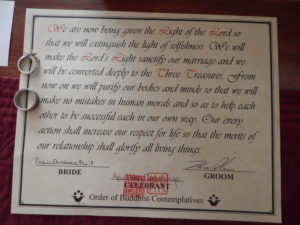 August 23, 2019
We hung the beautiful bell brought to us from Thailand recently by Scott Thompson and Cindy Krupp.  Matt Weidmann created the beautiful wooden mallet and frame from which the bell and mallet hang.  He and Tom Gibson placed it at the entryway to the Meditation Hall.   It was sounded for the first time at the recent wedding ceremony – exquisite and gentle! Many thanks to all who made it possible.
.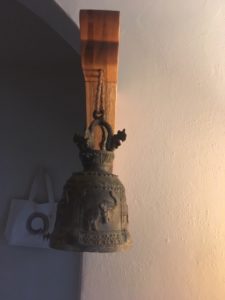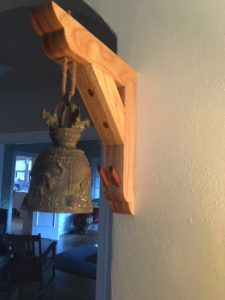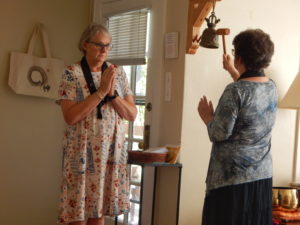 July 29, 2019
Many thanks to the congregation at Pilgrim Congregational Church who, in the spirit of interfaith sharing, invited the Redding Zen Buddhist Priory to offer one of our ceremonies at their beautiful Frank Lloyd Wright-designed church on Sunday, July 21. We started with quiet meditation, then celebrated our Transfer of Merit Ceremony with lovely music and had a brief Dharma Talk on Impermanence and Kindness. Following the formal part of the morning, the 16 or so of us who came from the Priory enjoyed social time with the congregation members there, sharing questions and deepening understanding over coffee and chocolate!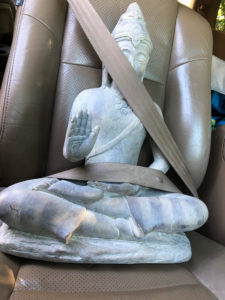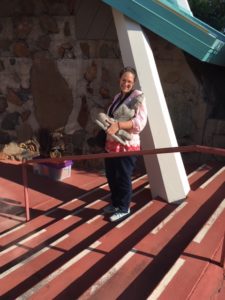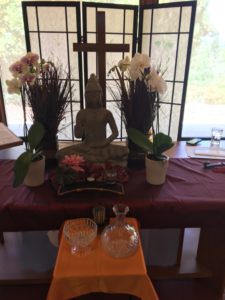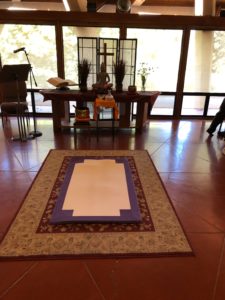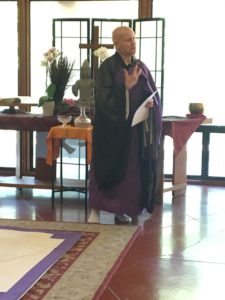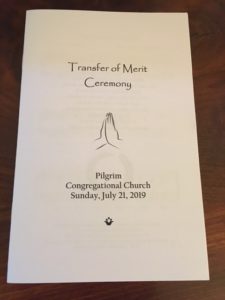 June 19, 2019
Please join us here at Redding Zen on five Thursdays in July and August for  the study of Great Master Eihei Dogen's Shushogi.  Shushogi is a compilation of Great Master Dogen's ideas, put together by the Soto Zen school in Japan early in the last century. It was created as an introduction to Dogen's work and as a means of communicating ideas fundamental to Soto Zen practice.  The text is provided below.  We will meet from 6 to 7pm after our regular 5:30pm meditation and will study one chapter each week:
July 11 – Introduction (The Reason for Training),
July 18 – Freedom is Gained…
July 25 – Receiving the Precepts
August 1 – Awakening to the Mind of the Bodhisattva
August 8 – Putting the Teachings into Practice…

June 16, 2019
Rev. Master Haryo Young, Head of the Order of Buddhist Contemplatives, visited the Priory Friday, June 14, and Saturday, June 15.  He offered an informal discussion on our practice to 14 sangha members on Friday evening, as well as a formal Dharma Talk on Saturday morning to 17 sangha members who participated in the morning retreat.  The Redding Zen Sangha was most appreciative of Rev. Master Haryo's teaching, as well as for the opportunity to get a greater insight into the Order of Buddhist Contemplatives.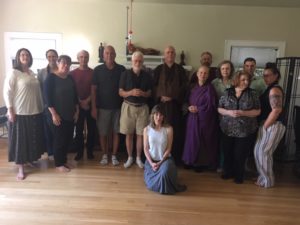 June 12, 2019
The Priory welcomed Rev. Vivian Gruenenfelder and Rev. Veronica Snedaker to visit the Priory from June 10 through June 12.  Rev. Vivian is returning from Throssel Hole Buddhist Abbey.  Rev. Veronica resides in Napa.  On Tuesday evening these two senior monks and fourteen ReddingZen Sangha members had an insightful and gracious discussion of our meditation practice and of the importance of "community" in our practice.  We welcome Rev. Vivian and Rev. Veronica to visit as often as their time allows.

June 9, 2019
On Saturday, June 8, 2019, Rev. Helen, along with Patty Donahue, Roya Mozafar, Susan Place, and Jeri Shattuck, attended the inter-faith Great Compassion Vigil at Shasta Abbey.  It was a beautiful ceremony, as well as the opportunity to connect with friends across a range of faith traditions (as well as with the monks at Shasta Abbey).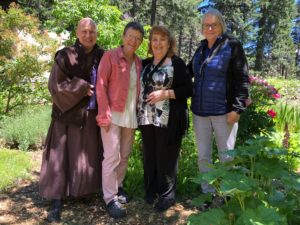 Roya Mozafar was behind the camera!
May 13, 2019
On Saturday, May 11, Patty Donahue, Gary Solberg, Tom Gibson Maria Domenech Florit, Roya Mozafar and Rev. Helen attended the annual Sikh Vaisakhi Festival at the Sikh Gurdwara Sahib in Anderson, CA.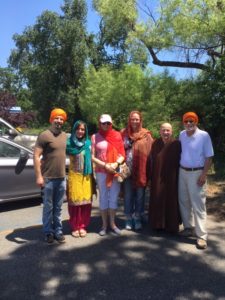 It was a festive celebration of non-violence with the opportunity to come to know the Sikh traditions a little better, as well as to enjoy delicious Punjabi food and exhibits from a range of traditions. Rev. Helen was asked to offer words from the Buddhist Tradition on nonviolence.
April 14, 2019.
We used the screens for the first time this Sunday.  They really made a difference!  Here Priory kitty, Nadia, checks to make sure that all is in order.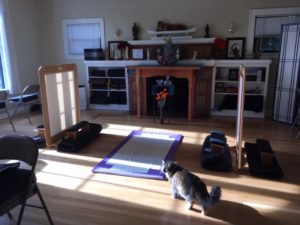 On Saturday, April 13, 2019, Rev. Helen offered Reflections on Mindfulness as part of St. Barnabas Episcopal Church (Mount Shasta).  She and Patty Donahue shared lunch with the group of 11 participants including Father Larry Holben, and participated in the times of quiet and prayer.   It is a joy to come together with like minded folks to share a time of reflection and quiet sitting.

April 7, 2019
 Thanks  to Tom Gibson and Maria Domenech Florit who facilitated the creation of two beautiful meditation screens for the Priory Meditation Hall.  They are sturdy yet gracefully designed, light and easy to lift. They will allow for more people to sit more comfortably with us.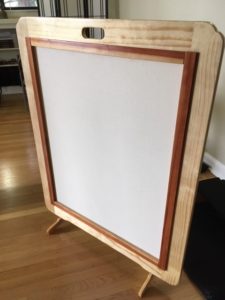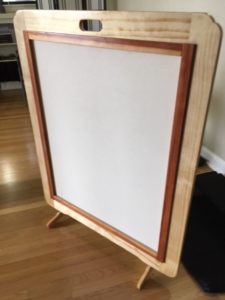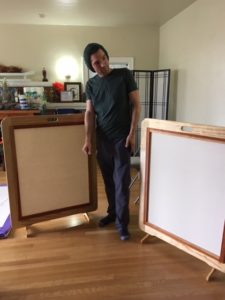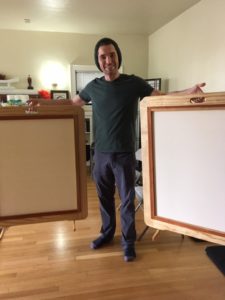 Thanks to Matthew Wiedmann who created these beautiful additions to the Meditation Hall.
Eric Matcho and his new orange tabby cat Ernie came by to the Priory for a blessing.  Eric and Ernie found each other at Haven Humane Society, and the match couldn't be better. – they already bring much joy and delight to each other.  Pictures soon!
March 27, 2019
Congratulations to Gary Solberg who took the Precepts at Shasta Abbey Tuesday!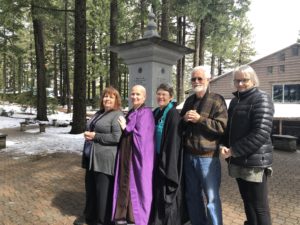 The Redding contingent was there to celebrate with Gary. Jeri Shattuck is attending the whole Jukai Retreat, and Patty Donahue, Susan Place and Rev. Helen went up to Mount Shasta for the day to attend the beautiful Lay Ordination Ceremony. Gary was one of 19 people taking the Precepts for the first time.
March 24, 2019.  We've had a full weekend!  Happy Spring and Happy Nowruz!  On Sunday morning, March 24, Roya Mozafar treated the Priory to traditional treats in celebration of the Persian New Year!  There was an abundance of delicious rice cookies and chick pea cookies, as well as walnut cookies, Persian baklava and delicious rosewater cupcakes.  Roya also brought cardamom and strong black tea.  Additionally she  gave us an overview of Nowruz traditions and the importance of this holiday in the Persian world.  Happy Nowruz!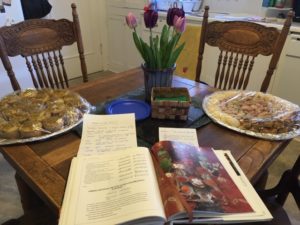 On Saturday afternoon, March 23, 2019, Rev. Helen with Chris Carrigan and Patty Donahue, visited with Pastor Tara Macy and members of the Shasta Lake Methodist Church to explore aspects of meditation.  The group was quite interested, asking good questions and enjoying a rich discussion after having the opportunity to have some quiet meditation time.  Pastor Tara and Rev. Helen are members of the Shasta County Interfaith Forum.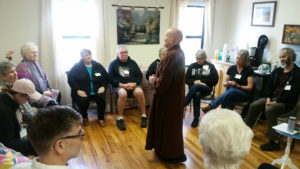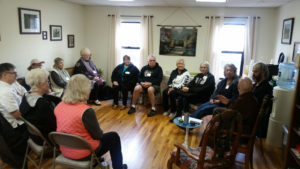 Happy Spring and thanks to all who helped with Saturday's Working Meditation. It was both enjoyable and productive. The Priory Meditation Hall, kitchen and library benefited from a deep spring cleaning.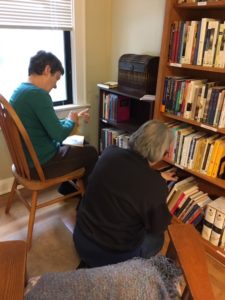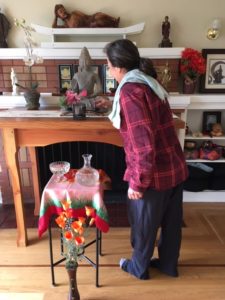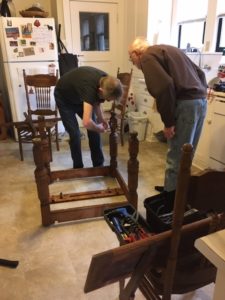 March 20, 2019
On the evening of March 19, 2019, at the Pilgrim Congregational Church Rev. Helen, along with other members of the Shasta County Interfaith Forum and more than 100 community members, participated in a Vigil in support of the people of New Zealand, where at least 50 people died in terror attackes at two mosques in the New Zealand city of Christchurch on March 15.  In a moving candlelight ceremony, faith leaders from a range of religious traditions offered reflections and prayers in support of the Islamic community in New Zealand and throughout the world.  Rev Helen offered the following reflection:
The word "Vigil" has roots in the Indo-European word (-weg-) that means to
be alert, to be on the watch for, or to be strong as one keeps watch.
May I offer two short teachings from my Buddhist tradition that we might want to be on the watch for as we go from our time together tonight into
"the vigil of daily life" that we'll step into once we go back out that door.
The Buddha in The Dharmmapada says:
All that we are is the result of what we have thought:  We are formed and molded by our thoughts.
Those whose minds are shaped by selfish thoughts cause misery when they speak or act.
Sorrow rolls over them as the wheels of a cart roll over the tracks of the animals that draw it.
"He insulted me, he struck me, he cheated me, he robbed me"
Those caught in resentful thoughts never find peace.
"He insulted me, he struck me, he cheated me, he robbed me"
Those who give up resentful thoughts surely find peace.
For hatred does not cease by hatred at any time;
Hatred ceases by love.  This is an unalterable law.
There are those that forget that death will come to all.
For those who remember, quarrels come to an end.
The Buddha spoke these words more than 2,500 years ago.
They're directly relevant today, are they not?
Dogen Zenji in The Shushogi says:
To behold all beings with the eye of compassion, and to speak kindly to them,
is the meaning of tenderness.
If one would understand tenderness, one must speak to others
whilst thinking that one loves all living things as if they were one's own children.
By praising those who exhibit virtue, and feeling sorry for those who do not,
our enemies become our friends and they who are our friends
have their friendship strengthened:
this is all through the power of tenderness.
Whenever one speaks kindly to another his face brightens and his heart is warmed;
if a kind word be spoken in his absence the impression will be a deep one:
tenderness can have a revolutionary impact upon the mind of man.
Eihei Dogen spoke these words in the early 1200s.
Can tendernessin 2019have a revolutionary impact upon the mind of man?
May we live in such a way that we become the change we wish to see.
May we be alert to, be on the watch for, and be strong as we keep watch
on our own expressions of body, speech, and mind.
May all beings – victims, yes, and perpetrators –
find contentment, be peaceful and free of suffering.
February 20, 2019
Generosity makes the heart grow brighter. There is no charge for Priory attending events
– meditation, retreats, classes, spiritual guidance, weddings, funerals or memorials.
Please keep in mind, though, that we do pay rent for our lovely Priory building
and are responsible for the normals costs of running a household.
Donations – financial,  in-kind, professional services, or help in maintaining the life of the Priory
are greatly appreciated.  We now have the option to donate to the Priory through PayPal:
The Transmission of the Dharma from the Buddha through to the present day is an important part of our Soto Zen practice.  Each day we recite our Ancestral Line in gratitude and appreciation for the Buddhas and Ancestors.  You can see the listing of names on the Ancestral Line page.   Here is the Ancestral Line PDF for your own study Ancestral Line Chart copy

January 21, 2019.
Thank you all so much for your participation in the life of the Priory over this long weekend – those who attended Saturday's day-long retreat on Kanchi Sosan's beautiful teaching on That Which is Engraved Upon the Heart that Trusts to the Eternal which included a formal lunch eaten together in silence, and those who attended Sunday's Memorial for our deceased pets and for all animals who have died in distressed circumstances, including the recent California fires.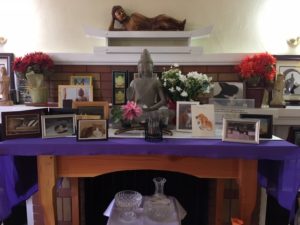 January 7, 2019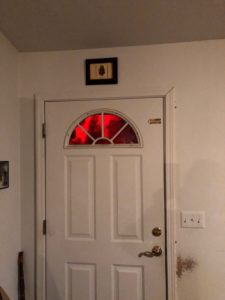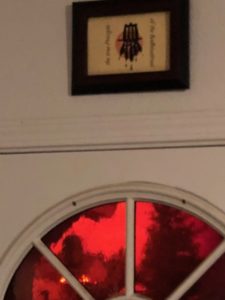 On a rainy Sunday afternoon, January 6, 2019, Rev. Helen was celebrant for Rhiannon and Sisouphanh Xaypanya's House Blessing, naming the house the Abode of the Awakened Heart. After a lovely ceremony at the family's beautiful living room altar assisted by daughter Ava, we hung the framed Ketchimiyaku above the front door, and processed through the house chanting the Om Kembaya verse. We then enjoyed the delicious spring rolls and other tasties that were offered. Also, in celebration of the Lu Mien New Year, 8-year old Ava offered a traditional Laotian New Year Dance. Besides Rhiannon and her husband and children, Redding Zen Sangha members Lindene Anderson, Vickie Wolf, Patty Donahue, Jeannine Gillan, Eric Matcho, Gary Solberg, Chris Carringan, Margaret Rooker and Gwen Rooker shared in this lovely ceremony.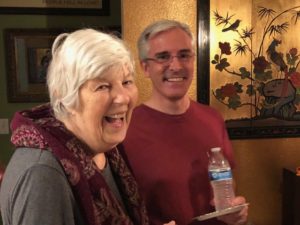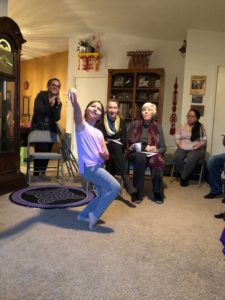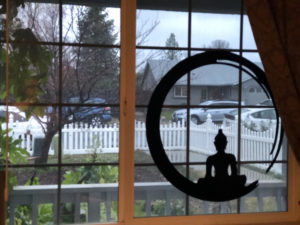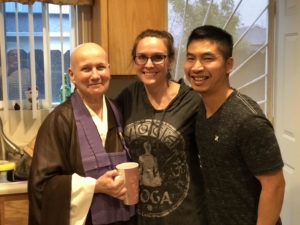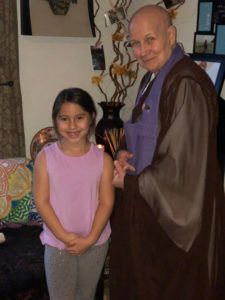 January 1, 2019
Happy New Year from the Redding Zen Buddhist Priory!
This is the dedication I offered at our New Year's Eve Ceremony:  On this New Year's Eve, we are gathered to offer blessing and merit for all that unfolds in the coming year.  May all beings be happy in the face of change.  May all beings be peaceful in the face of impermanence.  May all beings be free from suffering as we recognize that we are NOT in control as things change around us.

Nineteen of the Priory Sangha came by to celebrate New Year's Eve with meditation, to recite the Scripture of Great Wisdom as part of our New Year's Ceremony, and to enjoy festive toasts with Martinelli's Sparkling Apple and appreciative Sangha conversation.  Thanks to Maria Domenech Florit we also observed (and enjoyed!) the Spanish tradition of eating 12 grapes.
Thanks to all who have brought the Priory to where it is today.  May our practice – and the life of the Priory – deepen in 2019.
December 8, 2018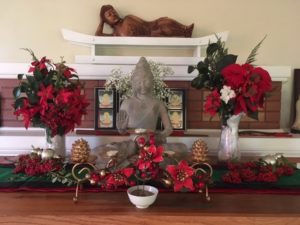 Thanks to all who participated in our Working Meditation Morning on Saturday, December 8. In mostly 91 minutes we decorated the altar and a beautiful "jewel tree" as well as putting up holiday decorations outside and inside the Priory in preparation for the Festival of the Buddha's Enlightenment that we'll celebrate on Sunday. We also continued work on the Redding Zen drought-resistant garden around the side of the house and in back, planting several buckeye trees, a spice tree, and two Japanese maples. At the conclusion of our morning we had a delightful time over tea sharing stories of our respective holiday traditions.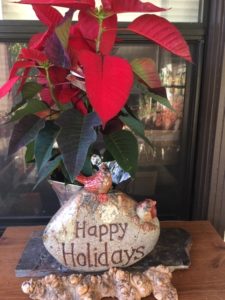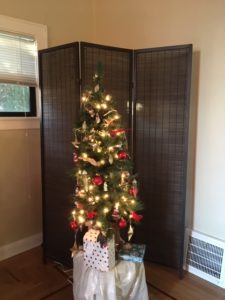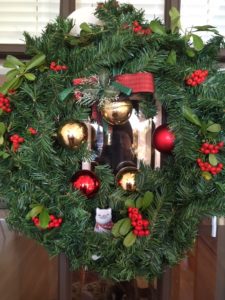 December 4, 2018
The traditional celebration of the Buddha's Enlightenment is December 8. Redding Zen Buddhist Priory will celebrate on Sunday, December 9 with a morning of meditation starting at 7am and the Festival Ceremony at 11am.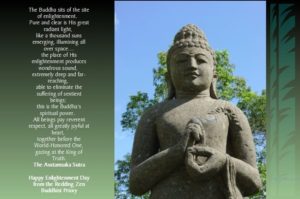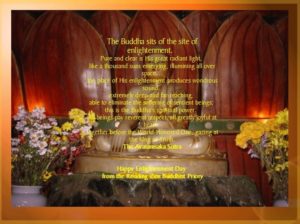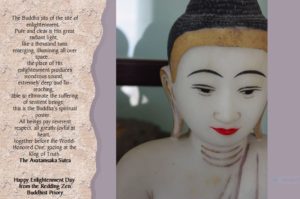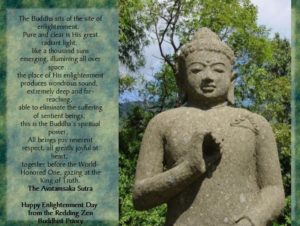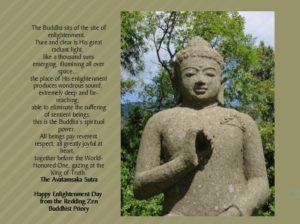 Special thanks to Shonna Smith who created such beautiful Enlightenment Day Email Greeting "cards" that we'll be sending out.
It's hard to pick just one!
November 22, 2018
Happy Thanksgiving from the Redding Zen Priory!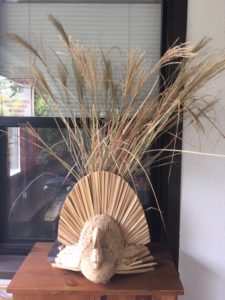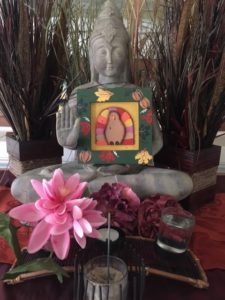 Thanks to all of you for your deepening training
and your on-going support of the Redding Zen Priory.
This has been a challenging year for so many of us.
May we continue to offer gratitude for the things that matter.
As Great Master Dogen says in The Shushogi:
…Because of consideration for others on the part of the Buddhas and Ancestors, we are enabled to see the Buddha even now and hear His teachings: had the Buddhas and Ancestors not truly Transmitted the Truth it could never have been heard at this particular time: even only so much as a short phrase or section of the teaching should be deeply appreciated.
What alternative have we but to be utterly grateful
for the great compassion exhibited in this highest of all teachings
which is the very eye and treasury of the Truth?
The sick sparrow never forgot the kindness shown to it, rewarding it with the ring belonging to the three great ministers, and the unfortunate tortoise remembered too, showing its gratitude with the seal of Yofu:
if animals can show gratitude surely man can do the same?
November 19, 2018
Patty Donahue, Gary Solberg and Rev. Helen attended the funeral ceremony for Rev. Master Chosei Swann on Monday, November 19 at Shasta Abbey.  Rev. Master Meian Elbert was celebrant for the deeply moving ceremony.  We stayed for the lovely tea that followed the ceremony, enjoying meeting and conversing with many of the more than 75 people who attended, including Rev. Leon – the Prior at the Portland Buddhist Prioryberkeley  and Rev. Master Kinrei – the Prior at the Berkeley Buddhist Priory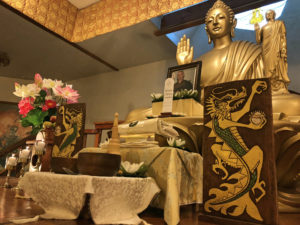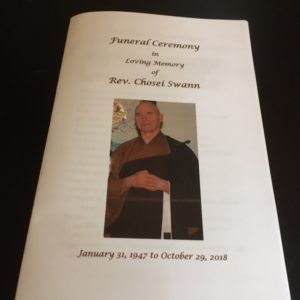 November 18, 2018.
There is so much to be grateful for at Redding Zen Buddhist Priory! Thank you all for the many ways you have contributed to the life of Redding Zen Buddhist Priory, especially your on-going and deepening training.  Many thanks to those who have contributed time, household necessities, food, gardening, music, office supplies, professional expertise, photography and social media support, financial support, kindness to Nicholas and Nadia, and so much more.  Your support of the Priory is gratefully appreciated!
This past Saturday, November 17,we had Meditation and Short Morning Service with accompaniment by one of our congregation members.  It is so lovely to be able to chant all together with live accompaniment – so different from singing with a tape!
Then from 10:00 to noon14 of us had a vigorous Dharma Conversation with Beth Gong and Alice Van Geffen, long-time lay practitioners at the Berkeley Buddhist Priory. They spoke about how to train with – and at – a Priory, as well as offered perspectives on training in daily life.  Beth and Alice have been Lay Ministers of the Order of Buddhist Contemplatives for more than 20 years.  We really appreciate Beth's and Alice's training and generosity.  We thought about taking pictures only after about half of those attending had left, but we did get some that are included below!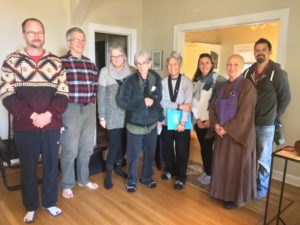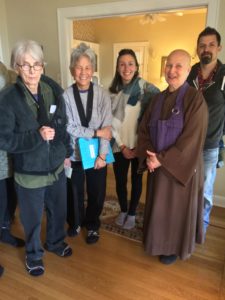 Today we celebrated the Festival of Thanksgiving, singing How Can We Not Give Thanks?  and exploring that question in our Dharma Talk and Discussion.

November 3, 2018
The following announcement was sent out from Shasta Abbey on Sunday, November 4:  As you know, Rev. Master Chosei died this past 29th October. On behalf of the community, Rev. Master Meian wishes to invite you to his funeral ceremony, which will take place on Monday, 19th November at 10:30 A.M. in the Buddha Hall, followed by tea.
We would welcome your participation in this celebration and honoring together with you Rev. Master Chosei's life, death, and training. If you can join us for this event, please get in touch with the Guest Office at 530.926.4208, ext. 305, or email at guestmaster@shastaabbey.org

October 31, 2018
On Election Night, November 6, Redding Zen will hold a Meditation Evening, offering the merit thereof for the benefit of our country. Please come for all or part of it.
The schedule includes:
5:30pm Meditation
5:55pm Short Break
6:00pm Meditation
6:30pm Walking Meditation
6:45pm Ceremony for the Benefit of the Nation
7:15pm Meditation
7:45pm. Walking Meditation
8:00pm ConclusionOctober 31, 2018
October 30, 2018
The monks at Shasta Abbey sent out this notice on Monday, October 29, 2018: " …(Our) dear monk, Rev. Master Chosei, died peacefully this afternoon shortly after 2:00pm Pacific time. Rev. Master Meian and several monks were with him."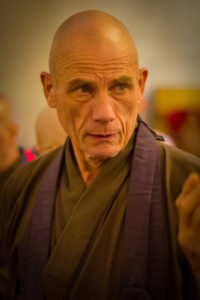 Rev. Master Chosei was a true monk, a profound teacher, and a real friend.  The Priory will hold a Memorial for him after his funeral at Shasta Abbey.  I'll let you know the time of the funeral and the memorial.
October 29, 2018
On Monday, October 29, Rev. Helen was celebrant for a Memorial for Mary Cherub, Patty Donahue's 94 year old aunt, who died peacefully earlier in October.  Mary was a beloved influence in Patty's life, she was an avid Red Sox fan.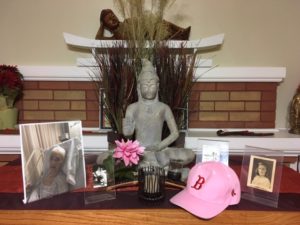 October 28, 2018
Thanks to all who helped with our October 26 working meditation morning.  We did a deep cleaning of the Meditation Hall.  AND we did an amazing amount of work on the front lawn creating a drought-resistant, native plant garden in front of the Priory – as the pictures below show.  We prepared the ground for the new plants and moved the stones – and the plants in pots – into position.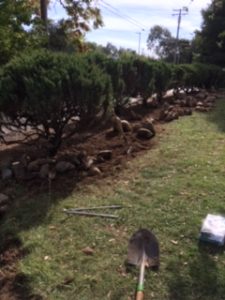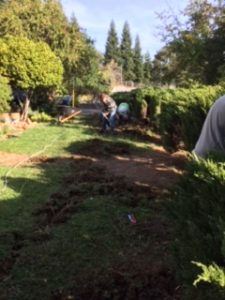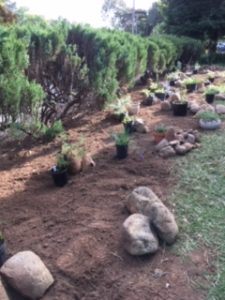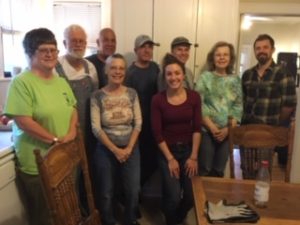 On Sunday the 27th we dug the holes and placed the plants in the ground.  Though there's much more planned, it looks lovely, even now.  Besides saving water, these new plants will be very attractive to birds, bees and butterflies.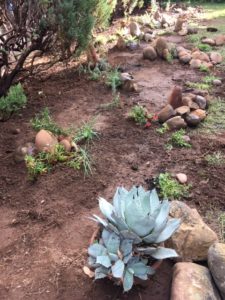 In our Festival Memorial Ceremony for Rev. Master Jiyu today, we were grateful to have a lovely flute accompaniment to our invocation played by Scott Johnson.  It is a joy to continue to honor Rev. Master JIyu's musical legacy in our ceremonies.
October 21, 2018.
We had a full weekend at the Priory!
On Friday, October 19, Chris Carrigan and Rev. Helen went to the Native Plant Sale at Shasta College to get drought-resistant native plants that we will plant next Saturday,  October 27, during the Working Meditation Morning.  We will have Meditation and Short Morning Service at 8am and then have Working Meditation from 9am to noon.  Please come for any or all of the morning.  There is indoor working meditation opportunities as well as the outdoor landscaping project.
On Saturday, October 20, 8 sangha members participated in the Sanctifying the Mundane:  The Ceremony of Daily Life Retreat from 9:00am to 2:00pm.  It was a rich day of meditation, reflection, shared Dharma conversation and a formal meal eaten together in silence at lunch.  There was time for private practice and spiritual counseling in the day's schedule.
On Sunday, October 21, 7 of us participated in Panda Ruth Jerry's Lay Ordination Ceremony performed via Skype by Rev. Master Koten Benson of Lions Gate Buddhist Priory, Lytton, British Columbia, Canada.. It was a deeply moving ceremony, for those who have previously taken the Precepts as well as those who might consider taking them in the future.  Rev. Helen worked with Panda to prepare her for this significant step in her training.  After the Ceremony, Rev. Master Koten offered a short Dharma Talk on how to keep the Precepts.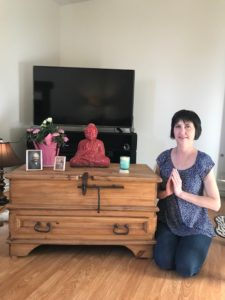 As the Offertory to the Ceremony says. Now the universe rejoices, the earth trembles and the flowers fall.  The Bodhisattvas of other worlds ask their Buddha what this means and the Buddha replies that a new disciple has been given the Pure Great Precepts of the Bodhisattvas…the Bodhisattvas,on hearing this explanations, bow towards you saying, 'If this is so, you are the same as us.  You are believing in, and taking, the Buddha for your Master and making the Bodhisattvas your friends.'  We are delighted that Panda has made this significant commitment to her practice and we offer her our sincerest congratulations.
October 10, 2018.
Rev. Helen addressed the 16 people participating in the six-week After the Fire:  Meditation for Stress Reduction course being offered by Chris Carrigan at the Redding Public Library.  It was a joy to be able to share our Serene Reflection Meditation (Soto Zen) practice of "just sitting" (shikantaza).   In the 90 minute session there was time for meditation instruction, sitting meditation, walking meditation, and  two vibrant question-and-answer sessions.
September 1, 2018
On Thursday, August 30, 2018, Rev. Master Astor Douglas, Guestmaster at Shasta Abbey, arrived at Redding Zen Buddhist Priory.  She and Rev. Helen had a lovely walk through the McConnell Arboretuem and Botanical Gardens at Turtle Bay before sitting at the 5:30pm meditation period.  It was helpful for her to stay overnight at the Priory in order to catch a very early flight from Redding Airport. It is a joy to be able to help out Abbey monks as they travel.  Thanks go the Gary Solberg who kindly drove Rev. Master Astor from the Abbey to the Priory yesterday.
On Saturday, August 25, Rev. Helen was celebrant for a Memorial Ceremony for John Karl Bermel who was a victim of the Klamath Fire earlier this summer in Hornbrook, CA.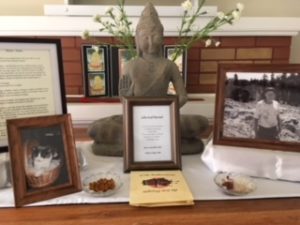 Gary Solberg was Precentor, Patty Donahue was Chaplain, and Chris Carrigan was Assistant Chaplain for this gentle ceremony.  The 14 of us who attended shared tea and lovely stories of John after the ceremony.  We all expressed gratitude for John's presence in the world and in our lives.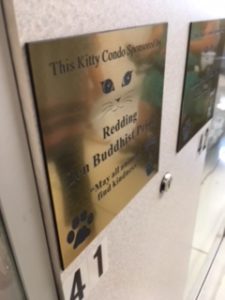 On Friday, August 24, Jeannine Gillan, Patty Donahue and Rev. Helen offered the Animal Shelter Blessing at Haven Humane Society.  Particularly as things come together after the devastating Carr fire, it's good to offer merit for all the animals, volunteers and staff who have survived this challenging time.  While we were at Haven, we saw the plaque for the "Kitty Condo" the Priory sponsors – please see the pictures here – and we sponsored a kennel for dogs this time.   As Dogen says in The Shushogi "…if animals can show gratitude, surely man can do the same…"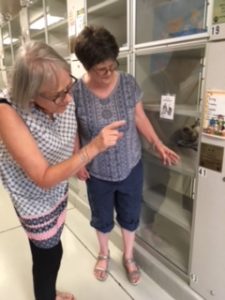 On Tuesday, August 14, and Wednesday, August 15, 2018, Rev. Master Seikai Luebke from Pine Mountain Buddhist Temple and Meditation Retreat visited Redding Zen Buddhist Priory, stopping overnight on his northward travels.  On Friday, August 17, 2017, Rev. Veronica Snedaker stopped by for a cuppa Priory hospital on her way southward.  It is a joy to welcome visiting monks of the Order even with Redding's current overlay of smoke.
On Sunday, August 12, 2018 Rev. Helen returned to the Priory from New England and the kitties – Nicholas and Nadia – returned from their evacuation at Chico Hospital for Cats.  Thanks so much to Dr. Elizabeth Colleran and the wonderful staff  there who not only provided compassionate care for Nicholas and Nadia, but also for more than 20 other cats evacuated because of the Carr Fire.  Thanks, as well, to Patty Donahue and the Redding Zen Sangha who kept the Priory building – inside and out – safe and nice.  The plants are thriving, as are the birds.
At the sane time we are all painfully aware that so many have lost so much over this past time, that so many firemen and first responders have done so much, and hope to have a memorial for those beings who have lost their lives later in the month.
As we move into August,  the Carr Fire is still dangerous but seems to be moving away from Redding.  May all be able to return home soon. Thanks to all who – officially or unofficially – offered housing or refuge for animals or a listening ear or a random act of kindness during this challenging time. Please continue to offer merit for all affected by the fire, particularly the fire fighters and the first responders.
It was a joy to be able to offer a stick of incense this morning at the Redding Zen Buddhist Priory altar. The Priory building is intact and for the time being the meditation schedule will be Tuesday through Friday: 6:30am and 5:30pm. On Sunday, August 5 and Sunday, August 12, there will be meditation at 10:30am followed by a ceremony and a Sangha discussion.  Thanks to Patty Donahue who will be staying at the Priory and for all who are supporting the life of the Redding Zen Buddhist Priory.
There will NOT be a meditation period here on the first two Saturdays in August: August 4 and August 11.
Nicholas and Nadia – the Priory kitties – are staying in Chico during this time. Kitties are particularly sensitive to unhealthy respiratory situations.
May you all breathe deeply during this challenging time and be rooted in an awareness of our True Refuge. Om to the One who leaps beyond all fear!
As of Monday afternoon, July 30, 2018, may I thank all who have supported and sent good wishes to the Priory during this challenging time. In particular, profound thanks go to Elizabeth Colleran and Hollis Elliott who gave refuge to Rev. Helen and the kitties for the past five days. Their welcoming and generous hospitality was very much appreciated. The kitties are staying with them for safety and security while Redding is facing continuing fire danger and dismal air quality.
Thanks, too, to all those fighting the fire, and to those first responders who made such a difference in lives saved, both animal and human. What Bodhisattvas! We pray that all affected by the Carr Fire may be safe and know true refuge. Om to the One Who leaps beyond all fear!
On Wednesday, July 18, Jeannine Gillan and Rev. Helen offered a Blessing to the cats at Haven Humane Society.  The Priory has sponsored one of the cat condos there.  The sign posted outside of "our" space will read:
Sponsored by the Redding Zen Buddhist Priory.
May all animals find kindness.
We'll have pictures in the next while.  We are grateful to be able to offer this Blessing monthly.
On Tuesday, July 10, we held a Priory Movie Night.  More than ten of us watched the highly recommended documentary Won't You Be My Neighbor?  at our local movie theatre (It was "Discount Tuesday").  The film detailed the life and the impact of a truly remarkable man known simply as Mr. Rogers.  We all agreed that – whether you ever watched the Mr. Roger's Neighborhood TV show –  the film is well worth seeing.  We will get together at the Priory on Thursday evening from 6:00pm to 7:00pm (after our 5:30pm Meditation) to discuss the film's relevance to our practice.
Won't You Be My Neighbor? is a New York Times Critic's Pick and has gotten wonderful ratings and reviews https://www.nytimes.com/2018/06/06/movies/wont-you-be-my-neighbor-review-mister-rogers.html.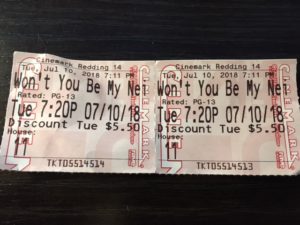 Happy Fourth of July! May it be a festive summer celebration for you, your family and your friends.  We had a lovely celebration of the Festival of the Fourth of July Sunday here at Redding Zen Buddhist Priory, offering gratitude for the opportunity to practice Buddhism openly, freely, and without fear or restraint.  A picture of the altar is included below, as is the schedule for the upcoming next while.  Please note that the Priory will be closed on Wednesday, the 4th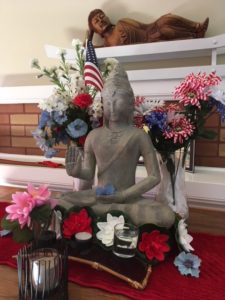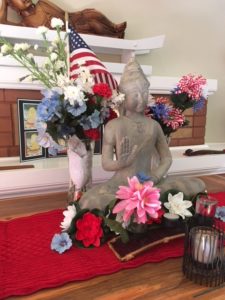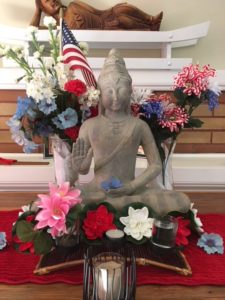 We now have a lovely thangka of a multi-armed Kanzeon hanging in the hallway. This image seems particularly appropriate for a Prory dedicated to the encouragement and support of lay practice. While each of the arms of this Bodhisattva of Compassion holds a tool or an object that might be used in the course of daily life – perhaps an iPad or a cell phone or chain saw or a muffin tin – her centered hands are in the Meditation Mudra pointing us to the importance of stillness in activity. Thanks to all who helped put this beautiful image together.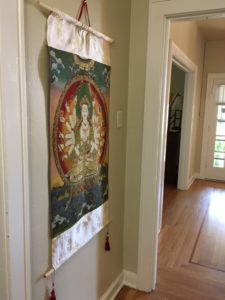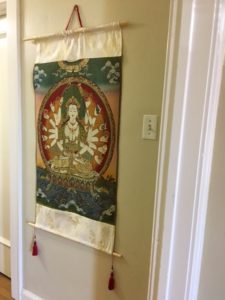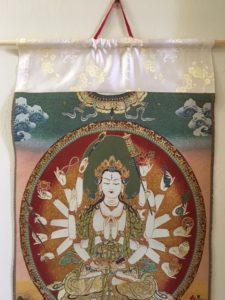 Thanks to Rev. Margaret for the curtains and to John Stuart for help in putting them up in our Meditation Hall. It's already several degrees cooler!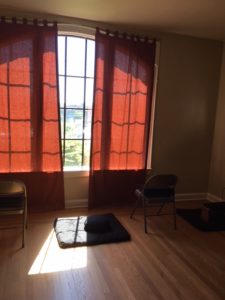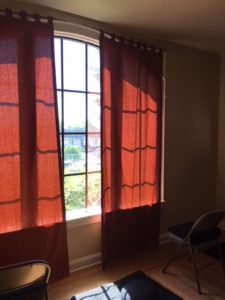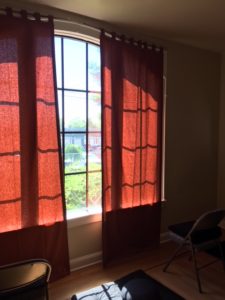 Here are pictures of the Priory lotus as well as a photo of the Priory apricot tree. The lotus has six (yes, 6!) leaves in various stages of unfolding. The apricot tree is full of delicious apricots that are waiting to be harvested. Please let Rev. Helen (reddingzen@gmail.com) know if you're willing to help with the high branches.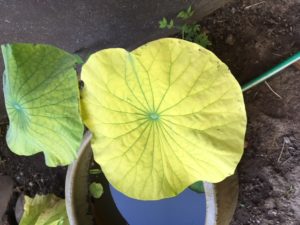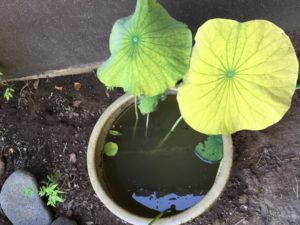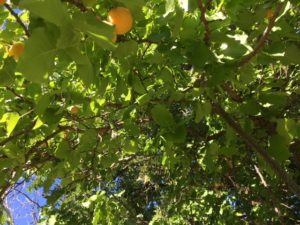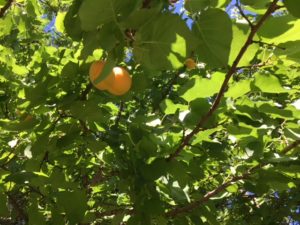 Below are pictures of our new welcoming statue that will greet you as you come up the stairs into the Priory.  It is the Buddha in the same Abhaya – Fearlessness – Mudra as the state on the main altar.  Thanks to Patty Donahue who found the lovely "distressed" box at the recent First United Methodist Church Yard Sale.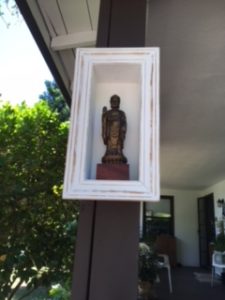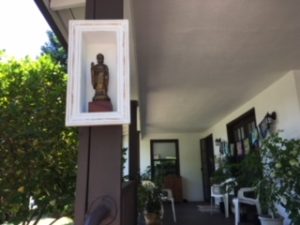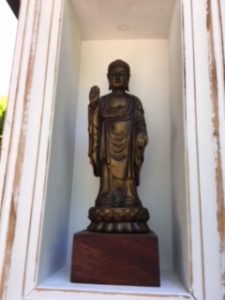 During June, our Thursday evening class – after our 5:30pm meditation period from 6:00pm to 7:00pm – will explore The Scripture of Great Wisdom – The Heart Sutra.  Please click here for recommended readings.
The Redding Zen Buddhist Priory wishes you a safe and enjoyable Memorial Day.  May we offer merit and metta to all those touched by war, terrorism and violence, as well as all those touched by fear.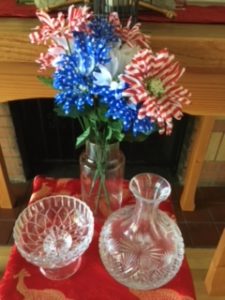 Thanks to all who helped at the Priory Working Meditation morning on May 26.  We were able to spruce up the outside yard and the porch,  we did a deep cleaning in the Meditation Hall AND we filled the bird feeders – to the delight of the white-capped sparrows, the jays, the mourning doves and even the squirrels.  And the hummingbirds have returned now that we've taken down the celebratory prayer flags – which we discovered had frightened them away!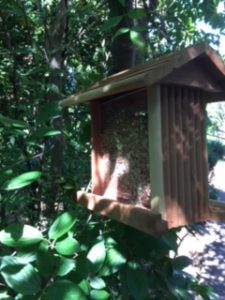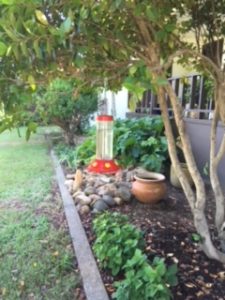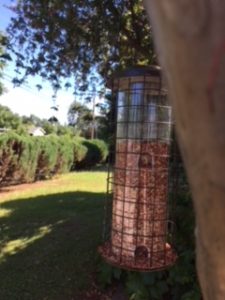 We had a good and helpful Sangha Conversation on May 24. One outcome is that our evening meditation on Tuesday through Friday evenings will start at 5:30pm – hopefully making it easier for folks to come to meditation from work.  Hope to see you at 5:30pm one of these evenings!
The Priory lotuses are growing!  the first of them has unfolded its leaves on the surface and is now sending up aerial leaves.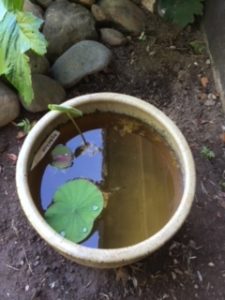 Members of the Sangha attended the Sikh Festival in Anderson, CA, on May 12.  It was a festive celebration of Sikh religious and cultural traditions, as well as presentations in support of cross-cultural appreciation of non-violence.  Rev. Helen was asked to give one of those presentations and she offered the Buddha's Words on Loving Kindness (The Metta Sutra) as well as the Dedication of Merit.
On May 5th, monks from Shasta Abbey and friends from near and far came together to bless the Priory and to offer gratitude to all who brought this temple to life.  Rev. Master Meian was celebrant for the Priory Blessing Ceremony.  She invoked the blessings of the Buddhas and Ancestors on the Priory and its offering of the Dharma and led the more that 50 attendees through the Priory rooms and yard chanting Om Kembaya, Kembaya, Un Ba, Ta Sowaka.  At its conclusion, members of the Redding Zen Sangha sang an Offering of Gratitude that invokes blessings and merit for all who encouraged and supported the Priory.  Following the ceremonial all enjoyed a delicious and abundant potluck lunch.  A good day was had by all.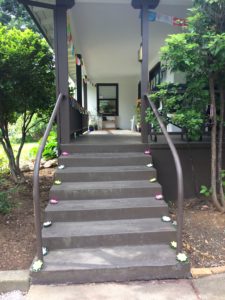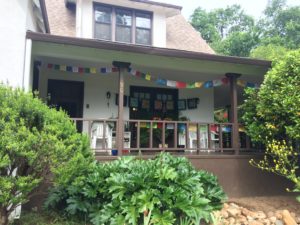 The Priory was decorated with flags and flowers.  Thanks go to those who have tended the Priory gardens – the front lawn and bushes, the back yard, and the beautiful native plants on the porch.


Rev. Master Meian was celebrant for the Priory Blessing Ceremony.  Seven other monks from the Abbey came as well as Lay Ministers from Redding and Chico.  More than 50 friends of the Priory shared a delicious potluck meal and enjoyed conversations with friends old and new.